How To Find Us
We are based in Radcliffe, Manchester and cater to the surrounding area.
Looking to buy an Electronic Cigarette and/ or Juices in your local town, but can't find a decent local supplier? Save time and money and get them delivered to your door - FAST! Take a look at our ranges of superb E-Cig Starter Kits, E-Liquids and Accessories
Start Saving Money Now!
Cig-Ease Shop Locations
146 Ainsworth Road, Radcliffe, Manchester. M26 4ED
Tel: 0161 725 9016 (Shop & Website Sales)
Call for more info on our products or to place an order
Opening Hours -
Monday to Friday - 10am until 6pm
Saturday - 10am until 4pm
Sunday - 11am until 3pm
Cig-Ease Bolton
300 Wigan Rd, Bolton, BL3 5QT
Tel: 01204 658616 (Shop Sales Only)
Opening Hours -
Monday to Friday - 10am until 6pm
Saturday - 10am until 4pm
Sunday - 11am until 3pm
Cig-Ease Adlington
179 Chorley Road, Adlington, Chorley, Lancs. PR6 9LP.
Just opposite Tesco Express!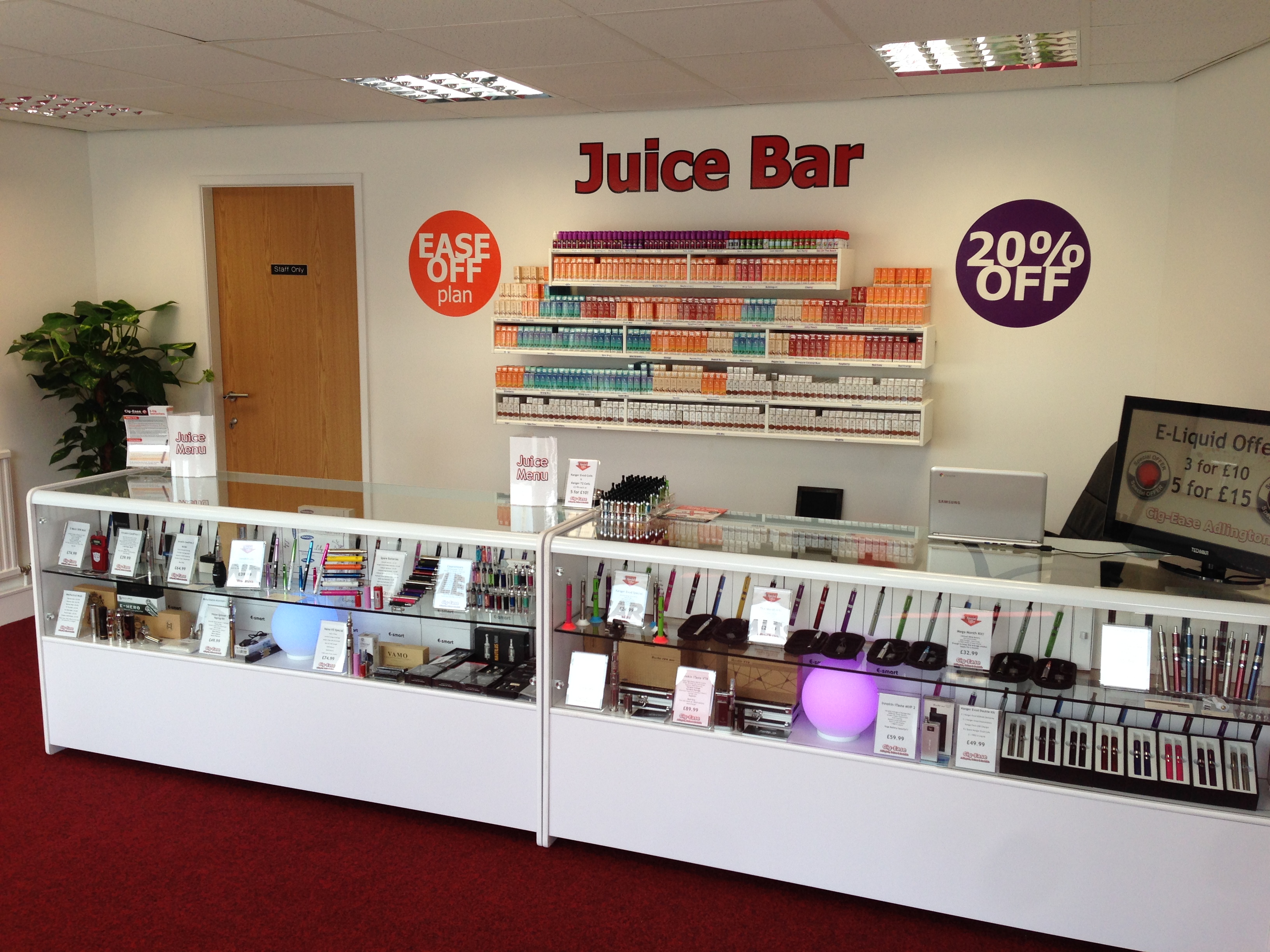 Tel: 01257 369 190 (Shop Sales Only)
Monday to Friday - 9am until 6pm
Saturday - 9am until 4pm
Sunday - 11am until 3pm
Please feel free to order products off the website - we dispatch daily via First Class post. If you order before 2pm...in most cases your order is delivered the next working day!

Top reasons to buy online from Cig-Ease
Fast Delivery...Orders placed before 2pm will be posted first class the same working day!
Genuine Top Quality products - No Clones, Copies or Fakes!
Huge stock of Vaping accessories always available
Pay with either PayPal, or with your credit or debit card via Worldpay, or give us a ring on 0161 725 9016 and place your order over the phone!
100% Secure Shopping
Excellent Customer Service - If you have any questions...We're here to help...feel free to ring or email
Postage costs are only £1.99 or FREE on orders over £20 (First Class post, Charges apply for Special Delivery) to anywhere in the UK!
Payments are made through Worldpay or PayPal and therefore are totally secure!
If you have any questions or need more info on any of our products please Email Us!
You must be eighteen (18) years of age, to purchase ANY OF our products. At Cig-Ease.co.uk we reserve the right to cancel any transaction where we reasonably believes the purchaser is EITHER NOT OF THE REQUIRED LEGAL AGE OR purchasing products on behalf of a minor.
At Cig Ease we actively encourage people not to take up a nicotine habit.
If you are not already a smoker then please do not buy our products.
WARNING: NICOTINE IS A POISON. NICOTINE IS HARMFUL. KEEP OUT OF REACH OF CHILDREN AND LOCKED AWAY IN A SAFE PLACE. IF ANY NICOTINE PRODUCT IS CONSUMED, SEEK MEDICAL ADVICE IMMEDIATELY...
Orders placed are processed by Worldpay or PayPal - We do not store credit card details nor do we share customer details with any third parties
Orders placed before 2pm on any working day will be dispatched the same day via first class post!
If any products are faulty when received you can send them back for a full refund, as soon as faulty goods are received back by us you will be refunded within 24 hours